Celebrate Your Birthday at TSE
Make your party the best ever!
Enjoy a fun-filled two hour party, playing sports, games, and activities of your choice at Rochester's finest sports facilities.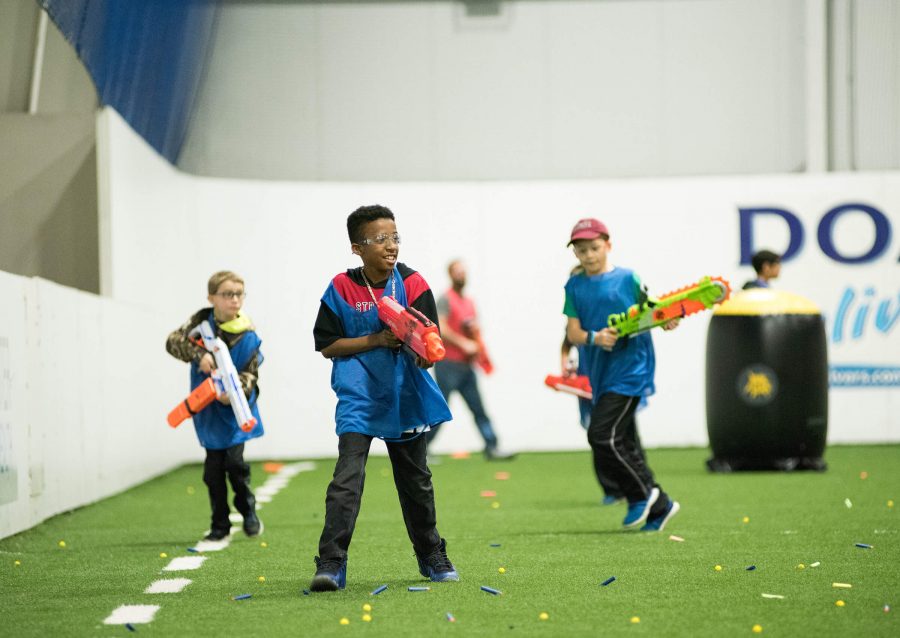 Party Overview
All parties are two hours in length and include time on one of our turf fields or basketball court as well as time in a private room for food, drinks, cake, and presents.
Choose from a variety of games, including: soccer, flag football, basketball, obstacle course, kickball, dodgeball, capture the flag, relay races, parachute and much more.
A TSE Party Leader will set-up, organize, coordinate activities, and then do the clean-up for you, ensuring your child's party is one to remember!
TSE Offers Three Party Types
Standard
First 60 minutes spent on one of our

turf fields OR basketball court

Next 60 minutes spent in private party room (the party room is yours throughout the entire party)
Overtime
First 90 minutes spent on one of our

turf fields OR basketball court

Next 30 minutes spent in private party room (the party room is yours throughout the entire party)
OT Combo
First 90 minutes spent on one of our

turf fields AND basketball court

Next 30 minutes spent in private party room (the party room is yours throughout the entire party)
Step 1: Choose Your Party Package
Boarded Field
Your party will begin on our large party field, giving the group the most space for games & activities. This package is recommended for ages 8+ and for parties with a lot of guests. Perfect for large field football, soccer, kickball, capture the flag, and more.
Training Field
Party on our smaller party field; ideal for ages 2-7, small parties of older kids or dodgeball parties for any age. It's the perfect space for toddler activities (parachute, obstacle course, tag games, relay races and more), as well as youth small field flag football, kickball, soccer, dodgeball, and more.
Basketball
Party on our basketball court with adjustable full sized hoops. Shoot-around, play shooting and dribbling games or go full court.
Note: This package is only available in our Gates location.
Inflatable / Bounce House
Party on our Training Field with one of three inflatables from Blue Apple Productions. Options include: Dalmatian Bounce House, Triple Fun Combo, or Undersea Adventure. The inflatable will set-up on a third of the field, leaving plenty of space for other activities. Fun for all ages, but recommended for youth parties (2-8 year olds). A larger field (boarded field) may be available upon request; inquire for pricing.
Foam Dart Battle
Battle your friends (and parents!). This package includes one hour on a boarded field with the Rochester Foam Dart League for up to 14 participants (additional charge of $15 per participant exceeding 14). Play a variety of exciting games like: Capture the Flag, Team Elimination, Freeze Flag and many more! The RFDL provides professional inflatable bunkers and all of the foam ammo and safety glasses you'll need. Bring your own "blasters" (recommended) or use the ones provided.
Step 2: Choose Your Activity
Party sports, games & activities are up to you and your child (or ask us for suggestions)! We recommend choosing a few activities, but there is no maximum or minimum. Here are some of our favorites:
For Toddlers & Young Children
Parachute games
Obstacle course
Relay races
Sharks & minnows
Tag games
Soccer
Kickball
For Older Children & Teens
Flag football
Soccer
Dodgeball
Kickball
Capture the flag
Wiffleball
Basketball
Ultimate frisbee
Step 3: Choose Your Menu (Optional)
Salvatores Old Fashioned Pizzeria
Pick from the following three food packages. Each package comes with three pitchers of drinks, all paper products, utensils and cups.
Salvatores Sheet Pizza:

$48
1-topping pizza (32 slices)
Medium Sub Tray:

$60
4 large subs cut into 16 sandwiches
Choice of meats and cheese, with all veggies and condiments on the side
Chicken Tenders:

$60
32 chicken tenders with your choice of dipping sauce
Add-Ons
Once an above package is ordered, items off the menu below can be added on.
Sheet Cheese Pizza: $25 (+ $4 per topping)
Large Cheese Pizza: $17 (+ $3 per topping)
Large Sub: $10
Chicken Tenders (6): $10
Pitcher of Drink: $4
Abbott's Frozen Custard
Pick from delicious birthday cakes, a la carte custard treats, or both!
Birthday Cakes
Hand made with a layer of vanilla and chocolate custard and a chocolate cookie crunch center.
Small (serves 6-8): $25.50
Medium (serves 10-12): $29.50
Large (serves 14-16): $33.50
Half-sheet (serves 20-30): $45.00
A La Carte Treats
Oreo Wheels: $3.23 each
Vanilla or chocolate custard sandwiched between two giant Oreo Cookie wafers
Custard Cups: $4.00 each
4 oz. scoop of vanilla or chocolate custard
Please note: no outside food or beverage is allowed in the facility, besides a store bought cake.
Book Your Event
Call us at (585) 458-4263 (Gates), (585) 203-0367 (ER), or fill out this simple form, and a TSE Team Member will work with you to find a date and time that works best for both.
We will gather general party information, along with a $50 deposit.
A Few Days Prior to Your Event
We will check-in to confirm details and make any necessary adjustments (number of attendees, game requests, food order, etc.).
The Day of Your Event
Arrive 15 mins prior to the start of your party and let the fun begin!
Contact us to get started.
Waivers & FAQs
All participants must have a waiver (Player's Membership) on file.
To help speed up the check-in process for guests, getting them to the party sooner, we recommend having them sign a waiver electronically here or print our Players Membership / Waiver form and submit a hard copy at check-in.
Waivers will also be available for guests to fill out when checking (there may be a wait to do so).
Don't see the information you are looking for or have further questions?
View our Birthday Party Frequently Asked Questions or give us a call!